QHSE
Quality Health and Safety
For our dredging company, the phrase, "safety comes first," is an understatement. Safety means the responsibility of everyone from management to employees at U.S. Aqua Services.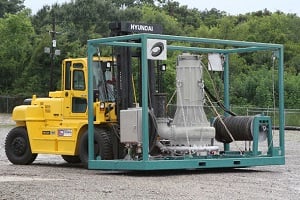 Quality health and safety standards come first and we emphasize the careful planning of each dredging project including risk assessment, hazard identification, communication, and emergency action plans. Taking the time to make sure the job and our dredging equipment are safe is a top priority. Our team members are committed to providing you with the right dredging equipment for your project, and to find ways to make your project easier and faster.
Our dredging company's experienced team is made up of individuals who have been trained and certified in the various safety protocols of the dredging, oilfield, and marine construction industry. We take this very seriously.
The following excerpt from the International Association of Dredging Companies outlines the purpose of quality health and safety standards and why the are in place:
"Safety on dredging vessels and during dredging operations embraces an overall approach towards ensuring the safety and health of personnel, the safety of ships and the quality of the environment which conform with these "Safety at sea" regulations. During every phase of a dredging project, close attention is given to the safety of ships, crews and other personnel as well as marine life. Dredging ships, operations and offices are expected to comply with the strictest of international standards regarding Quality, Health, Safety and Environment. Other standards of quality, safety and environmental awareness are often defined by the list of ISO/SCC/OHSAS/ISM and ISPS certificates for which a company has been certified. ISO codes originate from the International Organization for Standards which provides a wide range of certification for safety and quality. These standards are developed according to the principles of voluntary, market-driven, industry-wide consensus and the views of all interest groups are taken into account. Besides international and national safety regulations, the dredging industry has made the safety of personnel their top priority."
Let's Get Started
Please contact us for a consultation and site inspection and we will help you find the best solutions for your specific dredging applications. Our dredging systems and highly trained dredging specialists are a mobile unit and we'll be happy to come to you.
Free Consultations
Or, Just Ask Us a Question!