5 min read
The Benefits Of Renting Your Dredging Equipment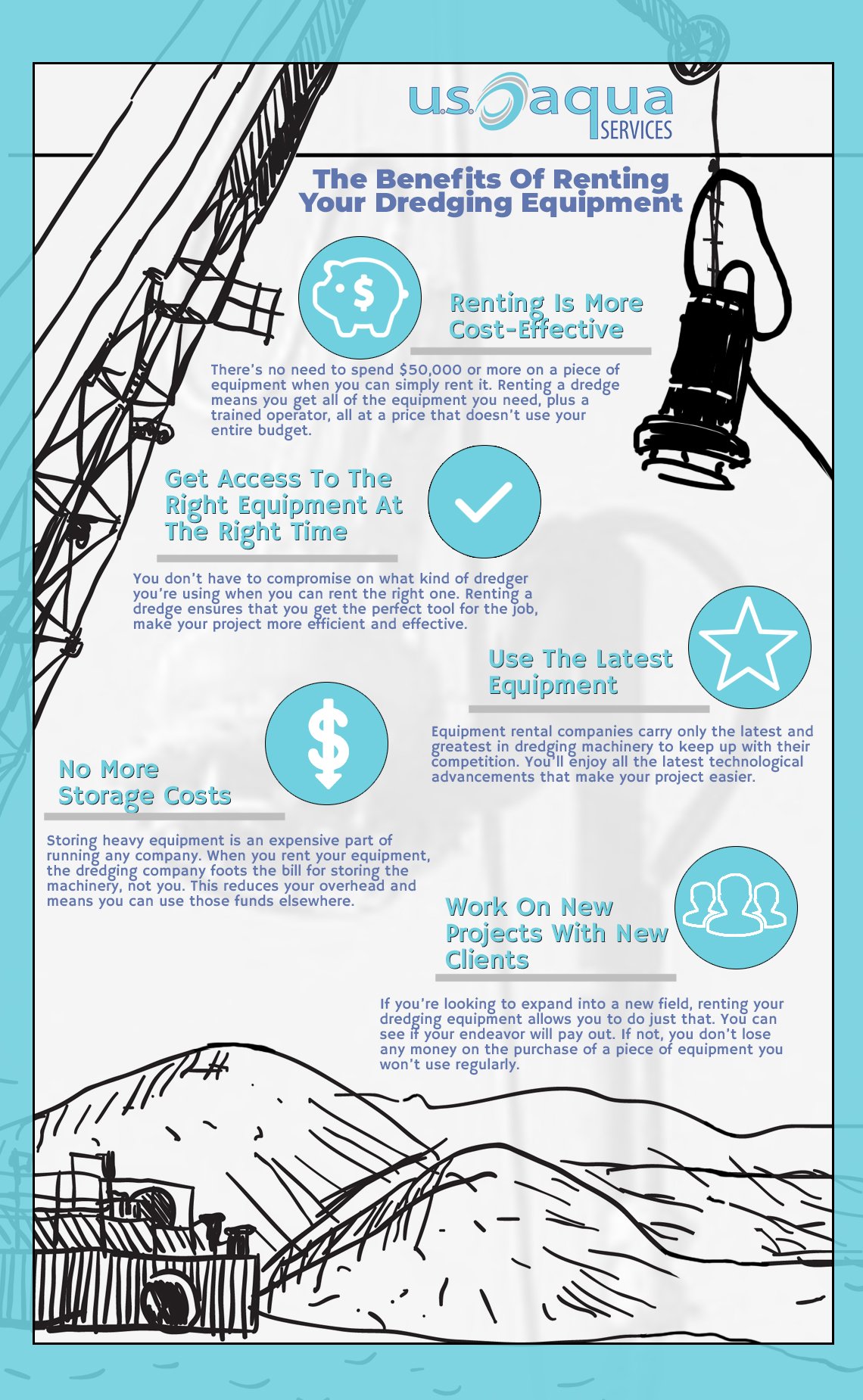 Starting a major dredging project is no small feat. It requires a lot of planning and consideration. You'll need to think about environmental factors, how much material is being moved and what kind, and what your timeline looks like. With so much on your plate, the last thing you'll want to think about is sourcing the dredging equipment itself.
While some project leaders are quick to purchase their own dredging equipment, it is often not a wise choice for them do so. Instead, using a dredging equipment rental service like U.S. Aqua Service is advantageous for many reasons.
Read today's blog and find out more.

1- Renting Is More Cost Efficient
This is often the most pressing factor for a project leader. Costs can rack up quickly, no matter the project. Especially if you're working on a major environmental remediation, you don't want your budget to be used entirely by purchasing just one piece of specialized equipment.
Unlike buying heavy equipment, like a dredge, renting does not require a massive upfront cost. These expenses reduce your budget, which can put strains on your timeline, your employees, and other features of your project. Renting also keeps you from paying for maintenance and repairs. Instead, a company like U.S. Aqua Services keeps the equipment in shape, meaning you save money because the dredge will work form the first time you use it to the last. Renting also saves you transportation costs.
There's no need to haul a piece of heavy equipment on your own dime when it can be moved to your work site as part of your rental agreement. By renting dredge equipment, you're saving on staffing costs. There's no need to pay someone's salary while they learn how to operate a piece of equipment they may only ever use a few times. Finally, dredging equipment rental ensures that they dredge is insured and that taxes have been paid for. This means you're not paying any extra fees on equipment you may not use frequently.
2- The Equipment You Need, When You Need It
No two projects are the same, and that can be said for dredgers too. While you might feel like the dredge you purchased is a "one size fits all" solution, the reality is that you'll need specialized equipment for every dredging project you tackle. This is especially true if you're working on a project that is dealing with an impacted environment.
By partnering with a dredging equipment rental service, you can ensure that you're renting the equipment you need when you need it. You won't have to compromise on the integrity of your project by using a dredge that isn't suited for that particular task. Instead, you can bring in the right equipment to get the job done efficiently and effectively.
3- Work With The Latest Equipment
The fact is, the world of dredging equipment is dynamic and ever-changing. Companies around the world are always creating new, more efficient models that can dredge larger amounts of materials while reducing its environmental impact. If you were to purchase your dredge, you'll find that your equipment quickly fades into irrelevance as your competitors continue to rent the latest and greatest model.
If you purchase your dredge, you're committing to that piece of equipment until it can no longer be used, or until you sell it.
By renting your equipment, you're ensuring that you are always working with the most cutting-edge dredging equipment. After all, it's in the best interests of a company like U.S. Aqua Services to offer their clients the finest equipment on the market.
4- Eliminate Your Storage Costs
If you own or run a company that regularly uses heavy equipment, you know that one of the hardest parts of your job is finding places to store all of this equipment. While some machines can be left outside in fleet parking, other pieces of equipment need to be stored inside or under specific conditions.
For smaller businesses or businesses that operate out of many locations, storage is always a concern. By going through a dredging equipment rental service, you never have to worry about finding the room for one more piece of gear. Instead, the rental company has to store and maintain the dredge, costs that are not passed on to you.
5- Take On New Projects And Clients
If you only use your existing inventory of machinery and equipment, you're fairly limited in what kinds of projects you can take on. While it's nice to have a specialty, this can keep you from expanding your business.
If you only rely on your current equipment, you'll find your business being stretched ever thinner as you have to look further and further to find projects and work. But renting your dredging equipment allows you to expand your business opportunities. You'll begin to earn revenue from new sources, letting you grow your business, develop your skills, and ultimately, outperform your competitors.
Looking for dredging equipment rentals?
Renting dredging equipment is the smart choice for nearly any business. You'll save time and money, and you'll open your business up to new opportunities. If you're looking for a dredging equipment rental for your next project, contact U.S. Aqua Services. We're committed to environmentally friendly dredging practices and promoting safety on every job site we're a part of.
We use cutting-edge dredging technology to make your project faster and more precise. U.S. Aqua Services and maintains a ready fleet of amphibious equipment and marsh buggies capable of completing projects in some of the harshest and most remote environments.
These vehicles allow for the transportation of equipment and personnel across exposed ground surfaces with ease, as well as complete projects in some of the harshest and most remote environments.
If you're interested in working with U.S. Aqua Services, contact us today for a free consultation.