6 min read
What Types of Equipment Are Used for Dredging?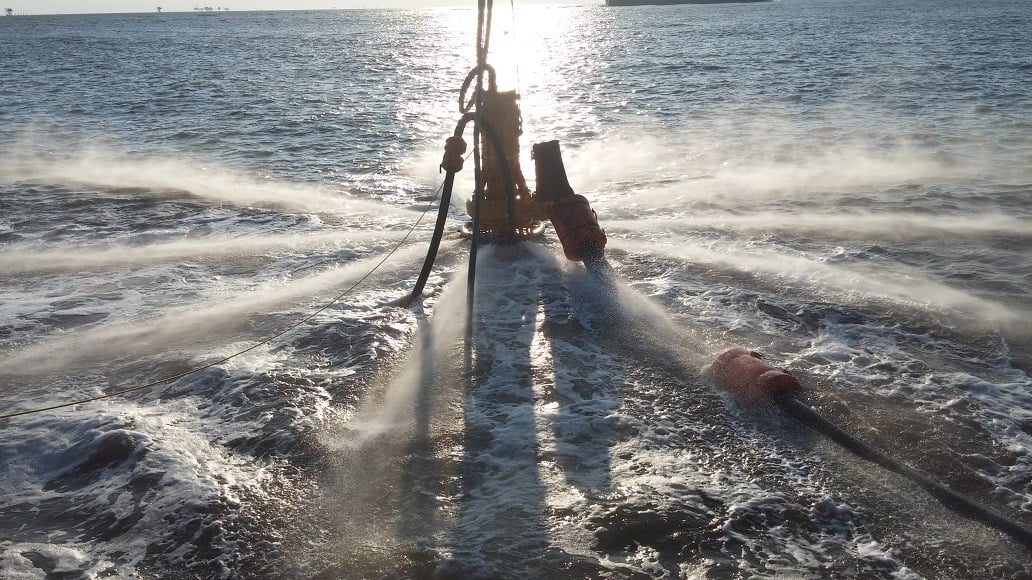 When it comes to dredging, there are a few different types of equipment that can be used. Depending on the size and depth of the water body, different types of dredges will be more suited for the job.
Here is a look at some of the most common types of dredging equipment.
TYPES OF EQUIPMENT USED FOR DREDGING
There are two main types of dredging equipment used:
Hydraulic dredging
Mechanical dredging
Hydraulic Dredging vs Mechanical Dredging
Hydraulic dredgers act as a giant, underwater vacuum cleaner to clean and remove sediments, while mechanical dredging uses heavy equipment to dig up the bottom of a water source, and move it.
Hydraulic dredgers are often the most cost effective for smaller projects.
Mechanical dredging is usually more expensive but can be used for much larger and deeper water bodies. It is also better suited for removing heavier sediment such as rocks and clay, which hydraulic dredgers cannot effectively remove. Mechanical dredgers use powerful blades to cut away soil, creating channels and deepening water bodies.
Both types of dredging are essential for creating deeper waterways suited for navigation, improving water quality, controlling flood risks, reclaiming land from the sea and more. Choosing the right type of equipment is a matter of analyzing the job at hand and understanding which option will best suit your needs.
Let's dig a little deeper into each.
Hydraulic Dredging
Hydraulic dredging is a type of dredging that uses pressurized water to break up and move sediment, rocks, and other materials from the bottom of a body of water. It usually works by using powerful pumps connected to large pipes (or hoses) that suck up material and transport it elsewhere.
This is widely considered the most effective method of dredging when the environment and the ecosystem of the dredging site is of major concern. It is preferred because it prevents most of the contaminated sediments from being dispersed or released into the nearby water source.
While this is a major advantage to hydraulic dredgers, they do have their limitations. Because of their design, hydraulic dredgers are excellent for moving loose soils, sands, silt, gravel, or rocks.
Benefits of Hydraulic Dredging
Cleaner and safer for the environment
Creates a more consistent dredging outcome
More efficient than other methods
Mechanical Dredging
Mechanical dredging involves using heavy machinery to dig up the bottom of a water source. This type of dredging is often done in deeper bodies of water, and can involve digging with a backhoe, dragline, or other large machinery.
While mechanical dredging is the most commonly rented form of dredging machinery, that does not mean it is always the most effective. Because this form of dredging requires a bucket or digger to impact and shovel away the sediment, there is a higher chance of contaminated materials within the sediment to be dispersed into the water surrounding it. The contaminated soil can fall out of, or through the bucket, and spread further into the water.
Benefits of Mechanical Dredging
More efficient for moving large amounts of sediment
Can work in a variety of depths and water bodies
Quicker than hydraulic dredging
Types of Mechanical Dredging Equipment
Backhoe dredges
Bucket ladder dredges
Cutter suction dredges
Hydraulic excavators
Other types of dredging equipment
In addition, there are two other common types of dredging equipment you will find: mechanical/hydraulic dredgers that use a combination of both hydraulic and mechanical methods to get the job done.
Cutter suction dredgers are an example of these. Hydrodynamic dredgers are the other type of dredging equipment you will find in the industry today. These are used for large-scale projects and involve using a jet of water to move sediment and debris.
No matter which type of equipment you choose to use, it is important to take the time to understand what each machine can do before making your final decision. With the right knowledge and guidance, you will be able to find the right dredging equipment for your particular project.
CHOOSE U.S. AQUA SERVICES TODAY
When it comes to choosing a dredging company, you want the best. You look for experience, knowledge, know-how, perseverance, and reputation. U.S. Aqua Services exhibits all of the signs of a top-notch dredging company. Our team has a combined 100 plus years of dredging experience.
In addition, we offer our immaculate dredging equipment for rent to those who wish to DIY their dredging project, from a backyard pond dredging to sand dredging. We offer support and guidance every step of the way. Our dredging systems have the capabilities of dredging up to 1000 ft of water.
If you are looking to buy or rent the best dredging company in Louisiana and the United States, choose U.S. Aqua Services today!
Related Articles
The Importance Of Dredging - In this blog post, we will discuss the importance of dredging and some of its benefits.
Dredging For Environmental Remediation - This article will explain the importance of environmental dredging as well its benefits while discussing several different techniques used today.
5 Technological Advancements We're Excited to See More of in 2023 - Here are the top five technological advancements that will make waves in the dredging and construction industry in 2023.


---
About U.S. Aqua Services
U.S. Aqua Services was created to support the dredging process in advancing commerce and responding to its many challenges. To accomplish this, our dredging company assembled an exceptional group of experienced individuals and a diverse inventory of dredge equipment.
We offer dredging equipment rental services so you can have access to the latest and greatest in dredging technology without having to pay to maintain it, transport, and store it
With an emphasis on mobility, dependability, durability, diversity, efficiency, and safety, our dredging rental company can ensure that our different types of dredging systems are easy to move through any terrain and can work in the most rugged and remote environments. Our multi-function hydraulic systems are built with jetting and mechanical options that can efficiently move loose sediment or stiff layers of clay.
US Aqua services also and maintains a ready fleet of Amphibious Marsh Equipment capable of completing projects in some of the harshest and most remote environments. U.S Aqua is also the dealer for Louisiana of the amphibious vehicle Fat Truck. No matter the size or scope of the job or the remoteness of your work location, you can rely on Fat Truck's industrial off-road utility vehicles to get the job done right.