5 min read
The Basics of Mechanical and Hydraulic Dredging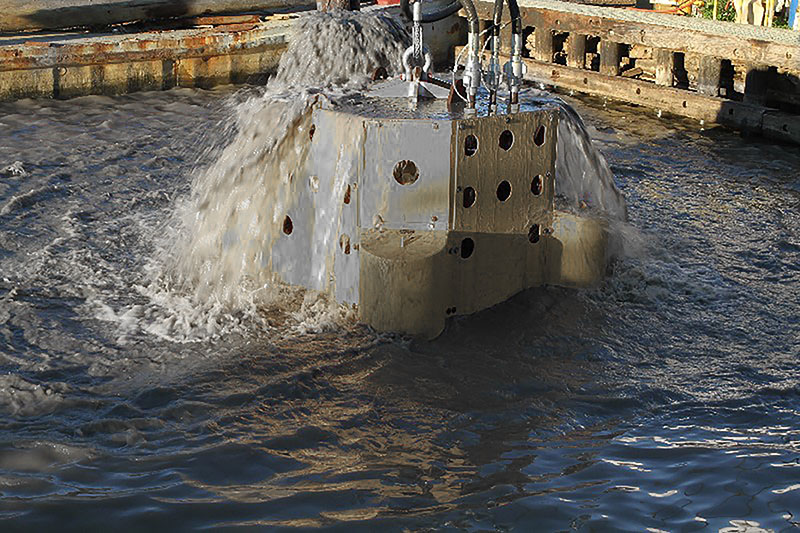 As most of us know, the act of dredging is when a dredge removes materials from the bed of a body of water and moves them to another place.
That being said, did you know that there are two major dredging methods? If not, they are mechanical dredging and hydraulic dredging, and within each, there is a variety of equipment, both old and new.
In this blog, we're going to explore the two major dredging types, as well as explain a few different equipment types utilized in each.
Mechanical Dredging
In essence, mechanical dredging is the act of using a dredge that digs materials from an extraction site. Most often, there is a stationary, bucket-oriented machine that scoops the desired materials before transporting them to the sorting area. Below, we will briefly discuss some of the mechanical methods that are and have been used for dredging.
Bucket Dredging
Bucket dredging is one of the original methods of dredging, where a stationary barge equipped with a boom of large, consecutive buckets rotates, scooping material from the dredge site. After extracting the material, the buckets drop their loads into a sifter that sorts the smaller, desired material (usually gold) from large materials which are moved out of the back of the dredger's hull. This would continue until the material in the dredging area was exhausted. At that point, the barge would be moved forward via winching to continue the dredging project.
Grab Dredging
Grab or clamshell dredgers are typically utilized for deep depth dredging, as they can reach extremely deep depths. While their mobility varies based on model, the general function of a grab dredge is to lower a large, single bucket to the bed of a water body. Upon reaching the bed of the water body, the bucket would close (like a clamshell, hence its name) and scoop up the material that was then placed onto a barge to be sifted and sorted.
Backhoe Dredging
Backhoe dredging, as the name implies, works like a backhoe. After being anchored in the dredging area, a massive backhoe bucket lowers to the water bed excavation site, scoops materials into a bucket, raises them to the surface, and empties the extracted materials onto a barge to be sifted and sorted.
Hydraulic Dredging
Hydraulic dredging focuses on pumping dredged materials from the excavation site to a processing site where the materials are sifted and sorted. This form of dredge relies on creating a slurry, or a liquidized mixture of rock, dirt, gravel, etc. that is then sucked to a sorting area. Keep reading to learn about some of the different hydraulic dredging methods.
Suction Dredging
Essentially an elevated Shop-Vac, a suction dredge operates like a high-powered vacuum that works underwater. This is made possible due to high-powered water pumps located on the dredge barge, which are gasoline powered.
Nowadays, suction dredging is most often used for gold extraction, as it effectively gathers and separates the gold from water and gravel. When materials are sucked into the dredge, a sluice retains any gold that has been extracted while expelling the gravel and water back to where it came.
Most commonly, suction dredges are compact setups, as small teams of gold prospectors use them for personal prospecting and gold extraction.
Cutter Suction Dredging
These dredges are very similar to your basic suction dredges, with the exception that they also contain a rotating cutter head that serves to break up rock and other materials to then be sucked, or pumped to the sorting and sifting stage. These dredges can dredge a variety of materials and are often stationary.
Additionally, cutter suction dredges are huge, as they're most commonly used for large-scale dredging projects like deepening harbors.
Trailing Suction Hopper Dredging
This type of dredging involves a ship equipped with two suction pipes on either side of the hull. These pipes drag along the bed of the body of water that is being dredged, and sucks loose materials into the ship's hold. Once the ship is full, it takes the dredged materials to an offloading site before continuing the dredge.
Reclamation Dredges
These dredges are used to empty trailing suction hopper dredges. Very simply, they use a suction pipe that is placed in the dredging ship to remove, or reclaim, the dredged materials. These pipes move the materials from the ship onto the shore to be processed and dealt with.
Barge Unloading Dredgers
Similar to reclamation dredges, a barge unloading dredger is used to unload a barge full of dredged materials. The major difference is that these dredges first use jetting to liquidize the dredge into a slurry before pumping it to another site.
U.S. Aqua Services Dredging Services and Equipment Rentals
Between mechanical and hydraulic dredges, there is a wide variety and a vast history. Although it's amazing to recognize the advancements in technology that are available, the sheer amount of information regarding dredging and its methods can be overwhelming.
At U.S. Aqua Services, we're here to help. We are experts on dredging methods and equipment, which means that regardless of the job, we have the equipment and the know how to ensure that your dredging project is completed effectively and safely.
We hope this blog taught you something new, and if you're interested in learning more about dredging, or are in need of dredging equipment rentals and services, contact us today!
---
About U.S. Aqua Services
U.S. Aqua Services was created to support the dredging process in advancing commerce and responding to its many challenges. To accomplish this, our dredging company assembled an exceptional group of experienced individuals and a diverse inventory of dredge equipment and excavator dredge pumps.
We offer dredging equipment rental services so you can have access to the latest and greatest in dredging technology without having to pay to maintain it, transport, and store it, along with dewatering services.
With an emphasis on mobility, dependability, durability, diversity, efficiency, and safety, our dredging rental company can ensure that our different types of dredging systems are easy to move through any terrain and can work in the most rugged and remote environments. Our multi-function hydraulic systems are built with jetting and mechanical options that can efficiently move loose sediment or stiff layers of clay.
US Aqua services also and maintains a ready fleet of amphibious equipment capable of completing dredging projects in some of the harshest and most remote environments. U.S Aqua is also the dealer for Louisiana of the amphibious vehicle Fat Truck. No matter the size or scope of the job or the remoteness of your work location, you can rely on Fat Truck's industrial off-road utility vehicles to get the job done right.