7 min read
How Amphibious Vehicles Benefit the Engineering and Mining Industry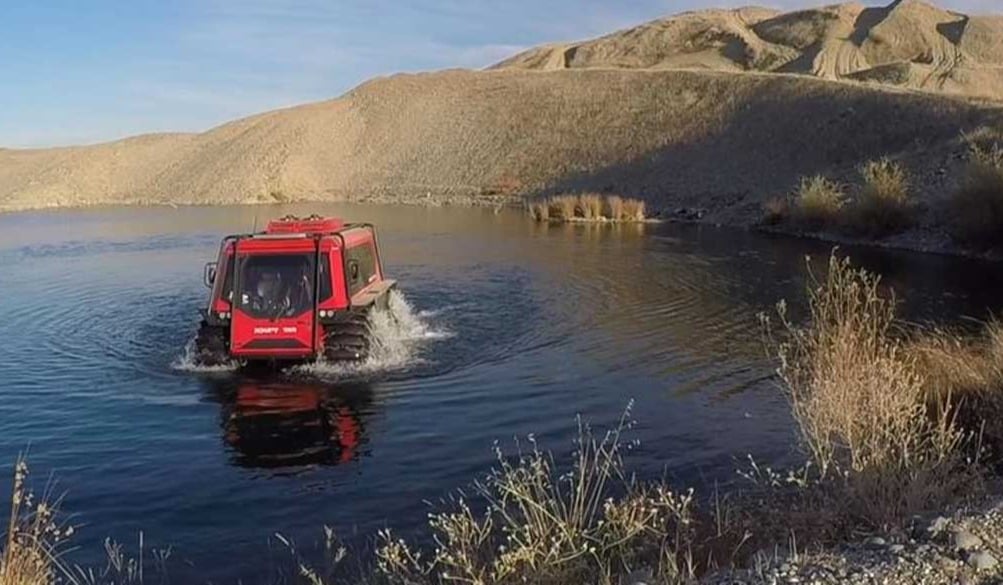 Traditional vehicles are tailored to specific uses and cannot generally cross exposed ground surfaces. On the other hand, amphibious vehicles, such as the Fat Truck, are designed to have many uses which include transportation across exposed ground surfaces.
Due to their increased popularity, the demand for amphibious vehicles has skyrocketed over the last several years and is expected to continue growing in the coming decades.
Here are a few details on how amphibious vehicles benefit both the mining and engineering industries.
What is an amphibious vehicle?
Amphibious vehicles are cars that can both drive on land and float in water. They were originally created to help military personnel cross rivers, lakes, or seas while under attack from enemies.
Today, amphibious vehicles are not just for military purposes anymore. These vehicles allow for transportation of equipment and personnel across exposed ground surfaces with ease, such as through flooded areas and other dangerous or inaccessible terrains seen in many engineering and mining applications.
Amphibious vehicles are also capable of being used on either roadways or waterways where wheeled transportation only would not work efficiently due to such conditions as terrain and traffic congestion. This terrain versatility makes these vehicles popular among people who live near bodies of water but do not own boats. These types of automobiles also allow users to access open roads without having to go through extensive modifications to their normal operating vehicles.
The Fat Truck
A good example of an amphibious vehicle in the market is the Fat Truck.
The Fat Truck, a four-wheel-drive vehicle at the cutting edge of technology, provides an ideal solution for transportation to job sites. This vehicle is able to access remote areas where pickup trucks and even buses are unable to go, while still being powerful enough that it can tow up to five tons behind itself without straining under pressure.
The company, Zeal Motor Inc., developed this amphibious vehicle that can drive over rough terrain with ease and take passengers on long journeys which are inaccessible by most vehicles due to limitations posed by landscape conditions. Amine Khimjee, Vice President of Sales & Marketing for Zeal Motors says "The Fat Truck is really an extension; where the pickup stops...the fat truck continues."
The manufacturer of the FAT TRUCK, Zeal Motor Inc., has announced the official production debut of its new 2.8 version. The 2.8 was created to meet a unique market need for transporting materials and tools to the job site.
FAT TRUCK also features the 2.8P model, an amphibious vehicle that will allow operators to transport goods through difficult terrain, while also having the passengers separated from the payload.
How do amphibious vehicles benefit the mining industry
Amphibious vehicles can be used in mining applications to safely transport equipment across exposed ground surfaces with ease. These amphibious vehicles, such as the Fat Truck, can carry large loads compared to traditional wheeled or tracked load carriers, especially when crossing small waterways or having to negotiate steep slopes.
These vehicles allow mines in remote locations (that were previously unreachable due to the lack of road access) available for use, as they enable mine operators to transport their material out of the mine effectively and efficiently, without incurring costs associated with building roads to their mines.
For example, the process of extracting lithium has been made easier with the invention of methods to purify it from its ore, as well as by amphibious vehicles that can both float and drive on land. In an effort to increase their ability to extract lithium, several vehicle manufacturers are creating new types of high-tech automobiles with unique features in order to penetrate through shallow areas where it would be difficult otherwise.
Having amphibious capabilities is especially useful for mining processes that operate in environmentally sensitive areas, where other forms of transportation may not be possible due to the sensitivity of the ecosystem. Amphibious vehicles allow for mining or metal extraction operations that may have otherwise been shut down because there was no ecological or physical way for equipment to enter the mine site.
Amphibious vehicles are also able to reduce ground pressure and can be fitted with flotation screens, or flotation collars which give additional buoyancy in the water allowing these vehicles to wade through deeper waters without these necessary features they would become trapped in soft mud or sand. On top of that, amphibious vehicles can negotiate slopes up to 70% gradient on one side and 40% on another side and have ramp gradients of >60%.
In mining operations, amphibious vehicles also allow rescue missions during disasters to be more efficient where these vehicles are able to access areas not usually accessible by other means, making them a necessary tool in natural disasters.
How do amphibious vehicles benefit the engineering industry
The engineering industry of amphibious vehicles is growing fast and has experienced a significant increase in demand over the last several years.
The amphibious vehicles engineering industry has grown exponentially over the last 10 years. It was estimated that in 2014, there were roughly 300 companies who worked on designing and building these units, with a total output of $41 million annually. From Canada to China, countries are helping develop this technology, which could lead to new discoveries for exploration purposes or even military might, as some have speculated from increased worldwide research into underwater drones and submarines used by various militaries around the world today.
The expansion of businesses working on technologically advanced amphibious vehicles since ten years ago is significant given how many organizations exist now compared to then-- nearly triple at least! This market also generates about half a billion dollars each year globally, according to statistics published in June 2018.
The growth that has been seen in the field of manufacturing amphibious vehicles shows no signs of slowing down, as there are new developments nearly every day to improve their functionality for buyers all around the world, who rely on these machines to get jobs done more effectively than ever before.
The engineering industry is about designing and developing vehicles that can travel on both land and in water.
This industry focuses on creating amphibious cars, boats, ships, etc., which are capable of traveling from one medium to another with ease at a given instance without any difficulty or impediment. The professional engineering insight involved in this process requires great precision as well as planning, since it involves intricate details like propulsion systems through aircraft engines for enhanced speed while crossing oceans.
Amphibious vehicles can also be used in engineering applications to easily safely transport equipment across exposed ground surfaces.
How to buy or rent an amphibious vehicle?
No matter the size or scope of the job or the remoteness of your work location, you can rely on Fat Truck's industrial off-road utility vehicles to get the job done right.
U.S Aqua also offers a wide range of towing and truck bed options, and we can deliver your new Fat Truck to your location with ease.
Buy or rent a Fat Truck today!
---
About U.S. Aqua Services
U.S. Aqua Services was created to support the dredging process in advancing commerce and responding to its many challenges. To accomplish this, our dredging company assembled an exceptional group of experienced individuals and a diverse inventory of dredge equipment and excavator dredge pumps.
We offer dredging equipment rental services so you can have access to the latest and greatest in dredging technology without having to pay to maintain it, transport, and store it, along with dewatering services.
With an emphasis on mobility, dependability, durability, diversity, efficiency, and safety, our dredging rental company can ensure that our different types of dredging systems are easy to move through any terrain and can work in the most rugged and remote environments. Our multi-function hydraulic systems are built with jetting and mechanical options that can efficiently move loose sediment or stiff layers of clay.
US Aqua services also and maintains a ready fleet of amphibious equipment capable of completing dredging projects in some of the harshest and most remote environments. U.S Aqua is also the dealer for Louisiana of the amphibious vehicle Fat Truck. No matter the size or scope of the job or the remoteness of your work location, you can rely on Fat Truck's industrial off-road utility vehicles to get the job done right.